Yes, Twigs of Yore is among the 100 blogs selected for MyHeritage.com's "Top 100 Genealogy Sites" of 2010.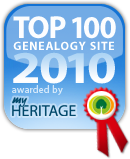 I'd like to thank my mother and my father, my paternal and maternal grandparents, my great-grandparents (with special mention going to
James Black
,
Frances Gertrude Lewis
and
Elizabeth Tregoning
), my 16 great-great-grandparents, and the countless thousands of more distant ancestors whose names I may never know but without whom, Twigs of Yore would never have existed! Another special mention goes to my husband, who is always willing to get me a cup of tea and who said that I really ought to thank him too.
More seriously, looking at the list, and seeing the company I'm in, it is indeed an honour. Many of the blogs listed are already favourites of mine. The others, I think I'll have to explore! Congratulations to all those named, and thanks to those who have congratulated me!